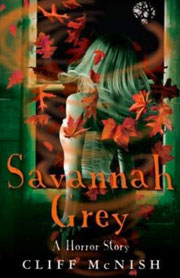 Hi guys,
Thought I'd give you a few minor bits and pieces of news.
SAVANNAH GREY
First, if you don't already know, my latest YA novel, a combination love/horror story that doesn't have a single vampire in it, is out on Feb 4th 2010. But ONLY in the U.K. Due to the protracted nature of getting this novel finished (disagreements, too much horror, too much weirdness, the usual battles I have, I never seem to learn) it wasn't presented during its development to my excellent U.S. publisher, Carolrhoda.
I'm well aware that I have a lot of American fans these days, and it's truly great to hear from you all and get feedback, which I love, but at the moment I guess you'll just have to order SAVANNAH from the U.K. As soon as I know about a U.S. publication date, I'll tell you. Oh, and if you want a sneak preview ... it's below this update.
WHAT ELSE?
For a start I've created a TWITTER profile. I've already included 8 tweets, including two of my all-time favourite short-short stories, which is a helluva lot of updates for me, as those who follow this blog will know.
What else? Oh yeah, I'm well underway with a new ghost novel. It isn't a sequel to BREATHE, but it is set again in a house and aimed at the same age-group. ie 10 year-olds – grannies ... At the moment it's provisionally titled 'THE SECRET PLACE'. That might/probably will/may change. It's fun writing it. I got so bogged down for a long time in rewrites for SAVANNAH that I almost forgot why I gave up a real job to write in the first place – because it's fun, honey!
Anything else? Yeah. One of my all-time heroes, pop-group Genesis seventies lead singer and songwriter extraordinaire Peter Gabriel, mentioned on his blog recently that he liked my novel SILVER CITY. It's always nice to hear about things like this from people whose feet you would readily kiss.
Oh, and I've been penning some weird adult horror stuff recently. Not sure if it'll ever see the light of publicity day, but there are shackles and restrictions in YA fiction you don't always want to be hidebound by, and it was nice to just let loose. I haven't decided what to do with the output yet. Bury it – or inflict it on people. If the latter, I reckon I'd have to have a nom de plume. Any good names come to mind, let me know ...
What else? Oh yes, short stories. I've been reading Melvin Burgess's on TWITTER – they're just little things, that's all you can do in that medium, but I quite like the idea of doing one or two. I may. After I wrote ANGEL, a spin-off couple of weird pages splurged out of me as a kind of wringing out exercise. We'll see, I might just go all quiet on this again.
I'm reading a lot at the moment. You older readers out there try to get hold of some of the dark fantasy short stories of Steve Rasnic Tem. He's amazing, but hardly known outside specialist horror press publications, which is a crying shame, as he's so original and not blood and guts horror at all. Just ... superior. Also reading the (also adult) 'Quantum Gravity' SF series by Justina Robson. Humans, elves, demons and fairies all co-existing in one tricky universe. She's such a smart, engaging, funny writer. Fills me with envy, really. Actually, almost every other decent writer does, but I especially hate/love ones as great as her.
Finally, my U.K. publisher, Orion, are putting together a flyer at the moment linked to SAVANNAH GREY. I might end up sending out a general broadcast with it to everyone who has ever sent me an email. I might not, though. I'm always a bit reluctant and backward on the self-advertising front. Typically English really. Although I love talking about fiction and what makes it tick, so that's odd ... on the other hand, I get tongue-tied on that front too... really, I'm happiest talking about monsters, which is probably where all the problems with SAVANNAH GREY came from ... but let's not go back there.
Oh God, this is turning out to be the most unstructured, rubbish bloggy update I've done ever probably. Time to get away from my desk and go for a walk ... except it's winter here nearly now, so it's raining, so I can't, and anyway I've pulled my back again, so I can't for that reason either, so I'm going to just have to – I don't know – READ A BOOK I SUPPOSE!
Ciao for now. Be good to each other.
Cliff