Q&A
How did you become an author?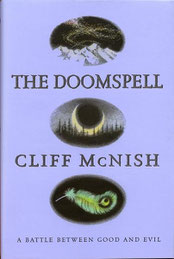 The Doomspell, my first book, is a story about two children who are dragged into a freezing world called Ithrea, ruled by an evil witch, Dragwena.
My ten-year-old daughter, Rachel, wanted a story about a really, really nasty witch.
Shortly afterwards, a strange image came into my head: of an evil woman walking down a steep stairway. The woman was outside, surrounded by dark snow and freezing winds, but she was not uncomfortable; on the contrary, she was quite at home.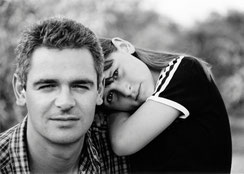 I got out my PC and started writing the scene that became the opening to The Doomspell (then called simply Rachel and the Witch.) Within a month I'd written about a hundred pages. Within another four or five months I'd written nearly 400 pages. I'd written a huge book!
A couple of family members read it, and told me to get someone in the publishing world to see if it was worth anything.
The trouble was, I didn't know anyone in publishing. I didn't know any writers. I didn't have a clue how the book world worked. Luckily, I did know one man who went to a creative writing class in Cambridge. Sally Cline, the woman who ran this class (an award winning biographer, but I didn't know that at the time), agreed to take a look at my manuscript.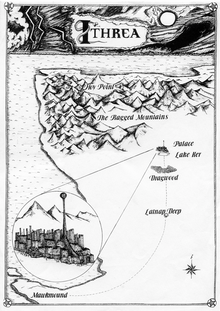 Thanks to Sally I learned how to edit myself. I ended up cutting about 10 characters out of the book who weren't adding a thing, and tightening up the whole story, reducing the length by over 50 per cent.
It took some time, but I eventually managed to find an agent willing to read the first three chapters. She wrote to me that "if there is any sense left in publishing" she would find someone interested in it soon. She did. A few days later it was arranged for me to meet Judith Elliott, then Manager of Orion Children's books, in Cambridge.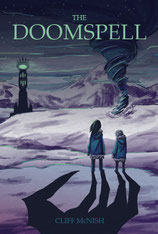 I felt quite confident that she wouldn't find too many problems with it. After all, my family had lavished praise on the book, and Rachel loved it. Sally Cline had a slightly different view. She praised me for a moment or two and then spent the next half hour or so tearing the novel to shreds. I didn't like hearing it at the time, but the criticism I got from that insightful woman  the toughness of it was what actually turned me into a writer.
What children's books did you like as a boy and a teenager?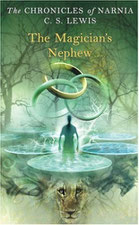 I hardly read any books at all until I was about 10 years old. I only read comics.
The first book I loved was The Magician's Nephew by C.S.Lewis. I also remember really getting into Enid Blyton's Famous Five adventure books.
When I was about twelve to thirteen I discovered Alan Garner's fantasies The Weirdstone of Brisingamen, The Moon of Gomrath and Elidor. I still don't think any better pure fantasy has been on offer since those Garner books written forty years or so ago.
In my late teens and early twenties I developed a love of science fiction. My younger brothers remember staring amazed at the rows of books I had on my shelves, by authors like Philip K. Dick, Brian Aldiss, Arthur C. Clarke and Isaac Asimov among others.
However, the range of brilliant young fiction works available now is so much greater than when I was a boy. So many excellent writers and illustrators also back up their fiction with fantastic websites as well  - take a look at the websites of Caroline Lawrence and Candy Gourlay.
Do I need to read your novels in a certain order?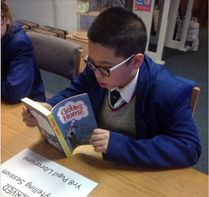 No, but I'd seriously advise you to read the two trilogies
 - The Doomspell Trilogy and The Silver Sequence - in the correct order. Otherwise you will certainly miss out on a lot, because the characters and plot ideas have been developed over preceding books. This is even more true of the Silver Sequence books than the Doomspell books. All the others are stand-alone one-offs. Take your pick.
Can you help me write better stories?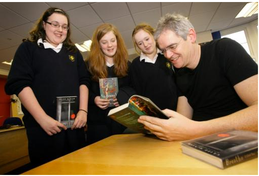 I give talks and workshops where I present my views about what elements are required to write really powerful stories (Please see the Schools section for more details). I think these ideas can be followed by anyone, regardless of age, to dramatically improve fiction writing. But do feel free to write to me via the message section of the website, and I'll gladly give you a few hints and tips. 
What advice would you give to a budding young author?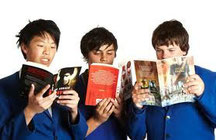 Read. By reading you experience different styles of writing. You also develop your vocabulary, as well as an ear and an instinct for what's good and bad in writing. A good writer is always, always, a voracious reader. The biggest single problem most young writers face is that they want to be a writer but they don't enjoy reading enough to have a true feel for the skills required.
How much research is involved when you write your books?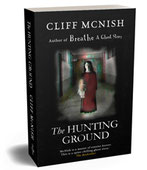 Glebe House as described in The Hunting Ground almost feels like a real place.  
I always do some. Even for my pure fantasies, such as my Doomspell and Silver Sequence trilogies, I did geographical research to make certain Earth-journeys and polar sections were factually correct, and I try always to be accurate when I used real world aspects.
For my first ghost novel Breathe I did quite a bit of research into certain elements of burial etc — almost none of which got used.
Historical research is so compelling in its own right because it constantly throws up fascinating truths you did not expect. I remember coming across an 18th century government report where a girl described having the disease TB as like 'having a mouse in her chest' - which struck me as an extraordinarily evocative description which I used in the book.
I also discovered that in Britain some single mothers out of sheer poverty ended up advertising their children for sale. How incredibly sad is that! Here was a typical advert of the time: "Adoption – A good home with a mother's love and care is offered to any respectable person wishing her child to be entirely adopted. Premium Five Pounds which includes everything – Apply by letter only.' 
In the end I did not use that fact, but it has stayed with me - and who knows what other idea it might kick off for a story later? In my horror novel Savannah Grey I scrupulously checked the order of animals/plants/insects evolutionary history on Earth because I wanted my main creature - the Ocrassa - to have evolved in parallel with that, growing subtler and stronger.
That took the novel partly into the science fiction realm - extrapolating from known facts - and I enjoyed that.
As for Glebe House, I really just put together a number of bits and pieces from historical houses to give it a feeling of reality, of so-called 'verisimilitude'.
And I also use a trick of technique: by constantly going back to a place - in this case, the East Wing - and finding slightly new ways to describe its same rooms and corridors, the very familiarity that settles into a reader's mind has a way of making it feel more solid and real. 
And of course, in a ghost story, where many of your characters may not be real or substantial at all, that is more important than it might otherwise be.   
Do you like the illustrations done for your books?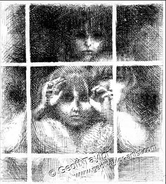 Yes, very much. I'm lucky enough to have had an excellent and much sought-after illustrator of fantasy and science fiction, Geoff Taylor, for many of my books. You can see illustrations Geoff did for my books here. And some of the original artwork from my books are on sale! Do check it out.
Have your books been published in other countries?
Yes. There are translations at various stages of completion of The Doomspell Trilogy underway in at least twenty-six languages so far, which is great.
Are there any other genres you would like to explore in the future?
I'm quite happy for now working within the horror/science fiction/fantasy genres or hybrids thereof. I have no ambition to move outside of them and write, say, a romance, or historical fiction. I suppose if  I did move elsewhere it would be into pure thriller/crime writing. But I love creating monsters too much ever to stray for too long from fantasy writing of some kind!
An interview with Cranleigh Preparatory School