WINNER OF THE CALDERDALE AWARD
WINNER OF THE HILLINGDON SECONDARY BOOK OF THE YEAR
SHORTLISTED FOR THE LANCASHIRE BOOK OF THE YEAR
SHORTLISTED FOR THE BAY BOOK AWARD
'Beautifully written and truly chilling ghost story set in a creepy mansion and featuring lost children, fearsome hunters and echoing nursery rhymes ... I liked the creepiness and the tension, which ratchets up and
up until its almost unbearable.'   The Bookbag 
'McNish is one of our most talented thriller writers, with an ability to make your spine crawl and your heart pound with his stylish pared down prose.' Amanda Craig, The Times  
Chapters 1 & 2
When Elliot and his brother, Ben, move into old and crumbling Glebe House they don't expect to find themselves sharing it with ghosts.
But soon sinister events are unfolding. An old diary reveals glimpses of the mansion's past — and a terrible tragedy. A mysterious woman talks to the dead. And evil lurks in the East Wing — a hideous labyrinth of passageways devised by a truly twisted mind.
Can Elliot and his family escape the clutches of Glebe House? Or will they be trapped in the maze of corridors, forever hunted by the dead?
CLIFF MCNISH INTRODUCES THE HUNTING GROUND
Why did you write The Hunting Ground?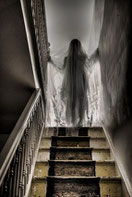 I have a leaning towards ghost stories, but I also wanted to go for something a bit different from Breathe. In Breathe, the ghost mother character is what is sometimes known in the trade as a 'good-bad'.
You  can take your pick on where morally you think she deserves to end up. In The Hunting Ground the ghost is an undiluted menace.
I've spent more than ten years creating villains, and though it's fun to give them more rounded personalities, reasons why they are villains that mitigate their actions and lead us to a certain level of sympathy with them etc, sometimes it's good to do exactly the opposite — create a heart of absolute darkness and see where that leads.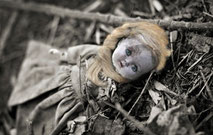 Actually the great thing, fictionally, about an out-and-out villain is that there is no limit to what they will do to get what they want. The reader instinctively knows this.
It gives your story a terrific amount of tension that more watered down villains simply can't ramp up. It's also good, as a reader, to be given permission to hate a character without reservation or limit. Adults sometimes say to me that this is something that kids like—  bad guys/good guy dichotomies; simplicities.
My experience is that while shades of grey can be very interesting, adults enjoy a classic bad guy/girl just as much as their younger counterparts. Nobody knew that better than Shakespeare. Look at Iago. Look at Gonerill.
I must like dark places ...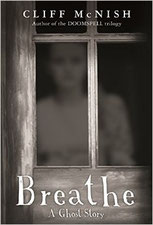 In Breathe, my first ghost novel, I sent as many people as I could into a sinister Nightmare Passage. I must like dark places because in the East Wing of Glebe House I've created another one. The idea of there being a home within a home — somewhere separate, somewhere you can get lost even though your family and friends are just a wall's distance away — fascinates me.
And what are you going to find lurking in such a place? What's hiding there? What's waiting for you?
Breathe was about a ghost mother and the dead children she terrorised. This time there's a man at the heart of the darkness. He does not in the least regret what he has done. Or what he is about to do. Oh, and there's a little girl as well. All good ghost stories have a little girl in them, don't they? But what are those rhymes she's singing? How can any little girl know rhymes like that?

ACCLAIM
'A masterly sense of revelation make this a seriously chilling read.' Jake Hope, The Bookseller 
'The Hunting Ground follows all the directions laid down by writers like Edgar Allan Poe and Ambrose Bierce, but McNish makes them all his own. This is a beautifully written and truly disturbing ghost story. Enjoy and shiver.' South China Morning Post
'A truly haunting story that stirs the hairs at the back of your neck. Fast paced and thrilling, the reader is hurtled along as the terrible events at Glebe House unfold.' Carousel  
'McNish is a master of sinister horror. This is a spine-chilling ghost story.'  The Bookseller
'A gripping and inventive ghost story for older readers in which the tension builds through apprehension, to dread and finally outright terror. This book will have readers looking over their shoulders for a long time after the last page is finished.'  Booktrust  

'Fast-paced, thoroughly gripping with as many twists and turns and dead-ends as the dreadful East Wing itself... read it on a warm summer afternoon when you have plenty of company!' Cornflower Books 

'What at first glance appears to be a run-of-the-mill ghost story soon turns into a really creepy scare-fest. The use of a diary to give a back-story to the horrible goings-on is a stroke of genius and notches the fear factor way up high.' Flipside 

'The Hunting Ground is a hair-raising thrill ride that will unnerve even the most hardened of horror fans. You have been warned.'  Wondrous Reads

'The action never lets up ... highly enjoyable.' The School Librarian  

'This book is amazing!' Teen Titles 

'I can honestly say this was one of the scariest stories I've ever read ... An example of the ghost story genre at its best.'  Chicklish

'Cliff McNish is a master of the classic ghost story and this may well be his best yet.' Reading Zone

'The parallel narratives are neatly intertwined ... an elegant idea.' SFX

'Chilling and terrifying at the same time. Cliff Mcnish certainly knows what scares people. This is superb fare from one of Britain's best children's authors.' Books Monthly 

'The more you read, the more the author inflicts a dark and sinister world that will leave you chilled to the bone.'  Mr Ripley's Enchanted Books  

'The Hunting Ground had me hooked from the moment I picked it up ... a fantastic plot line.' Excellent Reads  

'A superb read ... this is a book that gripped me from beginning to end.'  Alternative Magazine Online 
'The kind of book from which nightmares are born ... McNish has again proved that he is a master of dark storytelling.'  The Book Zone