Going Home
 'Makes you laugh and some of it makes you cry ...  I think it's an amazing story.'
The Guardian Online.
'McNish weaves a magical tale of hope, disappointment, love, loyalty and friendship - all in a
wonderful read that'll keep you captivated from start to finish.' Dogs Monthly.
Read chapters 1 & 2

At the Happy Paws Rescue Centre, every pet dreams of one thing: going home.
But Ralph, Mitch, Bessie and Fred are the no-hopers: dogs so difficult or troublesome they aren't expected to ever go home.
Ralph's face is scarred. Bessie can't stand to be touched. Mitch can't stop chasing cats and Fred . . . has just given up. Who'd want to adopt any of them instead of a cute little puppy?
But when Happy Paws reviews its policy of never putting an unwanted pet down, time starts running out for the dogs. Can they prove that they're worth a second chance? Will there be hope for the no-hopers after all?
Illustrations by the fantastic Trish Phillips featuring scenes in the novel.
Filmed by Phil Gammon and narrated by Jenny Gammon
'Everyone Loves a Dog Story...'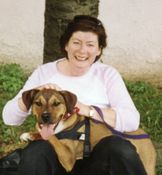 This one came from a special place. I'm generally known for my darker fiction, but my wife, Ciara, was forever asking me to write a warm story. 'How about one involving dogs stuck in a rescue home,' she said. 'You know, something heartfelt and funny. You can do that, can't you?'
Since we'd spent over two years fostering rescue dogs I had plenty of stories to use, though I never took the suggestion seriously. Other people wrote those sort of poignant, funny stories much better than me, didn't they? But when Ciara passed away the idea returned. And once I remembered it was her idea the characters took on an instant, vivid life. I could see Ralph, Bessie, Mitch and Fred barking away. I knew exactly what their stories were. Is GOING HOME the novel she wanted? I only wish she could tell me.
Illustrations from the Korean translation 
ACCLAIM
'Dog books can easily be formulaic and twee, but Going Home is a fresh 'buddy movie' told with smart repartee.' Nicolette Jones, Sunday Times.
'Any young kid who loves dogs will adore this tale and immediately want to visit the nearest rescue centre.' Sam Hawksmoor, Hack Writers.
'By turns funny and touching, this story is a must for all dog lovers.' BookTrust
'The depiction of the dedicated staff and animals, whose story he humaises to a brilliant degree, is nothing short of masterly. A lovely story, lovingly told and realised.' Books Monthly
'Heart-warming ... a perfect read for animal lovers.' Dogs Trust
'This book is a must for animal lovers ... amusing and heart-warming.'  The School Librarian.