'The characters grab your attention and the strange entitiy that threatens them is full of malevolence... children everywhere will be waiting for more!' 
Leicester Library Services for Education
Read chapter 1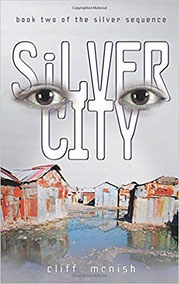 From the desolate reaches of space, the Roar has smelled the children of Earth and her hunger knows no bounds. Children from all over the world are rushing to Coldharbour. Here, Milo, a silver boy the size of cities, has emerged as the first great defender against the Roar. But where will the second generation come from?
Six special children hold the key, but their strength is dwindling. Thomas is shocked by his discovery of the eerie Unearthers. The twins are drawn irresistibly to the ocean, compelled to dive deep. Walter, the giant, must face a terrifying trial of strength, while Helen, searching for the secret of the strange little girl, Jenny, enters the mind of the Roar itself. The lines for battle are drawn.
I wanted to deepen the powers of the main characters from The Silver Child and place them in severe jeopardy.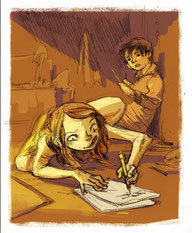 I decided to give Helen a direct link with the Roar. I also wanted to put Walter in enormous danger, put him in a position where he is trying to defend everyone, but it is too much. In addition, I was interested in continuing to explore the whole idea of transforming children physically. There were so many directions I could have taken this!
The idea of the Unearthers came from musing on this theme. Children with drills instead of hands sounded intriguing. I particularly enjoyed creating the Unearther leader, Tanni, a tough and resourceful boy, who also figures heavily in the final book of the sequence.
One final aspect absorbed me: that of making the main opponent, the Roar, truly frightening, despite the fact that it has not yet arrived on Earth. One comment I got from several readers of The Silver Child was that they did not find out enough about the Roar. I thought this was valid criticism, so this time the Roar is given its own chapters, and it should scare you half to death in its current incarnation... at least I hope so.
ACCLAIM
'McNish's suspenseful, fast-paced novel immerses readers in an inventive world featuring distinctly drawn characters and a graceful blending of realism and occasionally spooky fantasy.' Booklist

'Haunting imagery, vivid depictions of the limits of humanity, and a startling, innovative plot all make this a memorable contribution to the canon of speculative fantasy.' 
The Horn Book Guide