The Scent of Magic

'It is a spellbinding read full of excitement and suspense.
A brilliant sequel to The Doomspell.' Cool Reads
Read chapter 1
SO FAR, TRANSLATED INTO 26 LANGUAGES
Rachel and her brother Eric are extraordinary. She is a spell-maker, able to fly, take any shape, see far and wide with her many-coloured eyes. He is a destroyer of spells.
On the planet Ool, home of the Witches, the high Witch Heebra wants Rachel and Eric crushed, and her old adversaries the Wizards slayed. A party of Witches is dispatched to Earth to locate the thousands of children who have powers like Rachel's, and turn them into a ferocious army.
Rachel, in search of the children, finds their magic at work across the world. In Africa she encounters the infant Yemi, whose gifts transcend all others. In Chile she meets the menacing Heiki, a girl who will perform any evil to win the approval of the Witches. And in the frozen wastes of the Arctic she and Eric engage in a desperate struggle for the hearts and minds of all children.

I hadn't planned a sequel to The Doomspell ...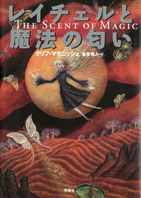 The Scent of Magic is a sequel to The Doomspell, in which the Witches come to Earth to get their revenge on Rachel and Eric and finish the wizards off once and for all.
I hadn't originally intended to write a sequel. I was still making final minor revisions to The Doomspell for Orion when they asked me what I planned to do next. I mentioned that I had one or two vague ideas to continue The Doomspell and they liked that.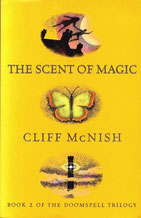 What I remember most vividly about this book is wanting to create a really nasty character Heiki. I could have made her a boy, but a girl felt right. Girl verses girl. I also wanted to expand Eric's role, and make him a character who would eventually have as much weight as Rachel.
I hadn't planned The Doomspell much at all, and while that made it fun to write, it left me with endless revisions. I was more disciplined this time, laying out an outline plan chapter by chapter — but giving myself license to alter that plan whenever I felt like it. That approach has served me pretty well ever since.
ACCLAIM
McNish tells a rattling good tale, and his well-plotted narrative races through some excellent twists and turns to a spectacular climax. The Daily Telegraph
The language used is rich and evocative, full of visual and sensory imagery it captures the readers interest and imagination from the beginning and holds it with ease to the end.  School Librarian
Anyone who enjoyed The Doomspell will want to follow it up with The Scent of Magic, in which the battle between the Witches and Earth's children moves onto our planet. 
The Times
The Scent of Magic continues The Doomspell story, but if anything the characterisations are deeper, the plot even more intriguing, and it is all carried off with a verve, pace and sheer passion for pure storytelling that make McNish's novels so compulsive.  Amazon
This is a children's book full of inventive touches great ideas, evocative descriptions, and page-turning pace. Vector