'McNish has an extraordinary, inventive mind, matched by his skill in translating ideas, characters and raw emotions onto the page ... Silver World offers a wholly satisfying conclusion to the trilogy ... takes the reader into uncharted territory, manipulating language in the most extraordinary way.' The Guardian
Read chapter 1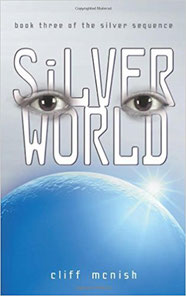 Millions huddle in Coldharbour, waiting for the huge and terrifying Roar. Milo, the silver child, is the first line of the Earth's defence. Under his wings, Helen probes the Roar's mind, while the twins, Emily and Freda, struggle to free the mysterious Protector. Walter's task is the hardest of all - keeping the others alive for long enough to find a weapon to defeat the Roar.
Only Thomas can release that weapon - if he can finally discover the true purpose of his remarkable gift. But a second enemy is also ranged against them.

As the Roar approaches from space, her firstborn, Carnac, is crawling from the depths of the Earth. Only a small number of children, the drill-handed Unearthers, led by Tanni, stand in his way.
ACCLAIM
'An outstanding fantasy novel for a wide readership ... McNish's imagination is extraordinary; the atmosphere is, by turn, both exciting and chilling; colourful and compelling. An irresistible fantasy with a tremendous climax.' Carousel  

'Extraordinarily inventive ... The characters are so rich and heart-warming, the suspense so gripping and intense that I couldn't put the book down. I fervently recommend this fantastic conclusion to a brilliant trilogy.' Teen Titles  

'Tense action sequences blossom into a joyous, fulfilling conclusion, but it is the imagery - lyrical, mysterious, haunting - that will linger.' The Horn Book Guide