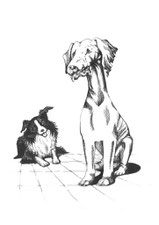 Every dog abandoned at Happy Paws Rescue Centre dreams of being rehomed with a loving family, but for Ralph, Fred, Mitch and Bessie the dream seems impossible. They've been at the centre for so long they're considered the No-Hopers - the dogs that nobody wants!
Ralph is determined to make one last attempt to find them all new owners, but time is running out when Happy Paws reviews its policy of never putting an unwanted pet down.
Can they prove that they're worth a second chance or has all hope gone?