The Wizard's Promise

SO FAR, TRANSLATED INTO 26 LANGUAGES
'Cliff McNish writes with energy and sparkling imagination in this most compelling conclusion to an extraordinary trilogy.' Nought to Twelve
The magic of all children has been released. Throughout the skies of Earth they swoop, crossing continents, changing shape, diving to the ocean depths and playing the deadly new spell-games.
Rachel bides her time, watching the skies for what she knows will happen - the invasion of the Witches. But when it comes it is not in the way anyone expects, and there is also a new enemy — the huge, terrifying Gridda-breed.
To confront them will require all of Rachel's and her brother Eric's skill and courage, as they embark on a journey that takes them to Ool, home of the Witches — a world where mountains move and breathe, the sun never pierces the clouds and the snows are alive.
Read chapter 1
I wanted to give the witches more complexity without losing their bite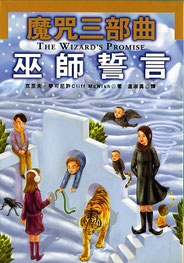 The Wizard's Promise is the third and last book in the Doomspell trilogy, and concerns the final confrontation with the Witches.
I started off with two clear ambitions in this book: that Eric would be at the centre of the unravelling of it, and that no one would be able to predict the way the resolution to the story would unfold. I wanted, too, to get more complex psychologically with the Witches; I wanted to give them a little more depth — without losing any of their bite.
I set to work.
I thought that after writing The Scent of Magic I was now a veteran writer who would make no major mistakes in plotting or characterisation. Wrong.
The first draft was so bleak that my wife nearly ran screaming from the house. Orion felt similarly. I had to do a major revision, but I was running out of time.
There was no deadline for The Doomspell because nobody knew about it. I had a head start for The Scent of Magic because the publication date for The Doomspell was put back.
I'd always worked full-time as a project manager in computing while writing these books, and had to snatch whatever spare time I could. During the writing of The Wizard's Promise time just caught up with me. I was tremendously busy at work, the final book was turning out to be much longer than the first two, and on top of it all I had this big revision to do.
In the end I worked my guts off to get the final manuscript to Orion two months later than they were comfortable with, and they pulled out all the stops to make the scheduled publication date of September 2002.
ACCLAIM
'The writing is atmospheric and the plot gripping, as the children battle against awesome forces.'
Good Book Guide
'A fast-paced, gripping read.'
Times Educational Supplement
'After the first two novels in the series, we have a finale that grips like a vice, and is full of the pace and all the imaginative and descriptive flair we have come to expect from this remarkable author.' Amazon
'The characters are believable; it is beautifully written, with page after page of powerful imagery; it is utterly compulsive and inventive reading for young teens.' Birmingham Post