Manuscript Reading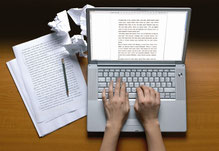 One of the most common complaints from children's publishers and children's literary agents is that the vast majority of books sent in by new authors are nowhere near good enough to publish.
Every week hundreds of manuscripts are sent in by the general public, usually in nicely-padded brown envelopes. Do you know how many actually get into print? Less than one in five hundred. Surprised? I was. Daunted? If not, perhaps you should be...
Like it or not, it's tough out there in the world of children's books. Following the success of Harry Potter it has become increasingly fashionable to write books for young people. That's great, but it also means that more people than ever are getting in on the act. As a new writer, you're up against not only every other would-be published hopeful, but a growing list of excellent authors who have already established themselves.
Do the names Terry Pratchett, Jeanette Winterson, James Patterson, Phillip Kerr, Andy McNab, Nick Hornby and Neil Gaiman mean anything to you? They're just a few of the best-selling writers for adults who've recently turned their hand to the glitter of children's fiction.
New writers suffer from enough disadvantages as it is, without having to compete against such luminaries. The hard truth is that is that in today's climate it's difficult enough to get anybody to read your manuscript.
Publishers have so much choice landing on their desks that many have stopped reading unsolicited manuscripts sent in by the general public altogether. That's a scary thought, but it's edifying to hear why.
The most commonly-quoted reason is simply this: that new writers send in stories which are JUST NOT INDIVIDUAL OR STRONG ENOUGH. As a new writer, your only real chance of success is to present publishers and agents with a manuscript that is brilliant, unique, wonderfully characterized and thrilling to read.
I can't promise you I'll shape your story into all of those things. I can't wave a wand and get you published either, though I can advise on presentation.
However, if you are over eighteen years of age, I can read your manuscript. I can view it with an eye to publication and I can also advise you on how to improve its structure, content and characterization so that it is more likely to get read by a publisher or agent.
I was lucky enough to get the advice of an excellent editor myself for my first book. Without her help, The Doomspell, which has since gone on to be published in 21 languages worldwide, would never have seen the light of day. Her excellent judgment made all the difference.
It meant that by the time I sent the book to a literary agent it was already good enough to be read by a publisher.
That's what publishers expect nowadays. With authors clamouring for their attention, your novel has to be as professionally ready as it possibly can be. I might be able to help you achieve that.
MY RATES
Structural edit of a full typescript up to 60,000 words:
£450 / US$750 / €500 
 Please contact me if your typescript is above 60k words
Evaluation of a novel's first three chapters plus synopsis: 
£250 / US$410 / €280
Evaluation of any smaller piece of fiction up to 25,000 words:
£250 / US$410 / €280
Please note: Much as I appreciate the quality of young writers' material, I do not read manuscripts from anyone under the age of 18. This is a professional service for adult writers only. Contact me via this form.